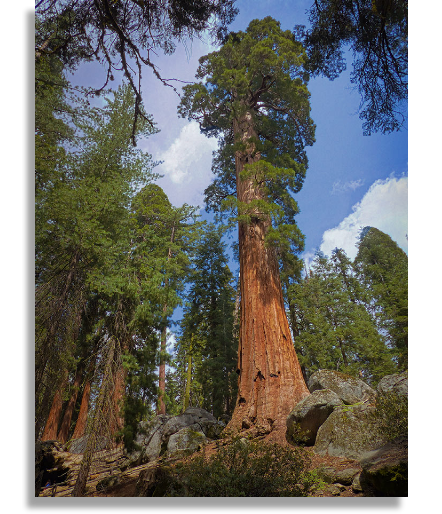 Before you book your trip here are a few things you'll want to know:
• Book Early--Because we only have three guest rooms at the Log House Lodge you can imagine that they book up quickly, especially on weekends and holidays. You should plan on booking your visit at least six weeks in advance to ensure that you get the room and dates you want.
• Book Direct and Save--There are specials, discounts, and packages available here on this site that you can't get through a channel such as Expedia or Priceline. Often it's advantageous to cancel a reservation made through a third party travel site and book directly for savings.
• Book More than One Night--Especially if this is your first visit to the Land of the Giants you should plan on staying at least two days. Some of our guests come to us as a one night stop on a whirlwind tour of the American West. But when they arrive they almost universally lament that they should have booked more days with us (and fewer days in Las Vegas).
• Best Season to Visit--Although the Sierras are a wonderful place any time, the most beautiful and comfortable time to visit is in the Spring. The land and forests are lush and beautiful from February through May. Further, the National Parks are less crowded during this time. You can't lose! The only downside during the first quarter of the year is possible road closure due to snow on the road between Sequoia and King's Canyon National Parks. You also may be required to carry (locally-rentable) tire chains in your vehicle just in case of snow in the park. However it only snows very rarely here at the Log House Lodge and the flaky stuff is gone before noon on those days. Just in case you need them, here's a good instructional video for installing tire cable chains: Link
• Breakfast as an Art Form--The breakfast at the Log House Lodge is Mauriene's joy to prepare: a full imaginative country breakfast, lavishly presented in original and delightful ways. Don't expect a menu or a large variety of offerings. DO expect a breakfast that is a work of art that you won't soon forget.
• Warm Summers--The Sequoia Foothills can be quite warm and dry in the Summer, with temperatures often topping 100 degrees Fahrenheit, (38 degrees Celsius). It's up to 30 degrees cooler in the National Park, however, which is at 8000 feet elevation. At the Log House Lodge we are at 1000 feet.
• Our Location--The Log House Lodge sits on two acres atop a hill overlooking a beautiful River Valley in the Sierra Foothills. We are 6 minutes by automobile from the gate of Sequoia National Park, but about 45 minutes from the actual Sequoias themselves. The road up to the park is steep and winding but very safe and quite scenic.
• Traveling Here--Although there are airports in Fresno, Visalia, and Bakersfield, chances are you'll be flying into either Los Angeles or San Francisco and then taking a rental car to get to the Log House Lodge. We are about 3 or 4 hours drive from either L.A. or San Francisco. You can download driving directions from Los Angeles to the Log House Lodge here.
• Don't Trust Rental Car GPS--Some GPS systems such as TomTom do not locate the Log House Lodge properly and will take you farther up the road than you need to go. Google Maps locates us correctly. Or you can download step by step directions here.
• Our Driveway is an Adventure--Because we are located on a hill, our driveway rises steeply from the road. Rest assured, you can make it. It is wide, smooth, well engineered, and safe. No one has had a mishap yet. (It's not even as steep as some of the streets in San Francisco.) If you are driving a larger vehicle such as a truck or van, you may want to park at one of the landings that you'll see along the driveway on your way up. Getting back down is easier that way.
• The Village of Three Rivers--It's a community of less than two thousand, yet it sees more than two million visitors pass through annually. Though small and rural, most modern amenities can be found here: Grocery stores, gas stations, art galleries etc. It's not fancy, but you can probably get what you need. Dining choices are a bit limited but you can find a variety of good food at our counter-service establishments. We recommend checking reviews of local restaurants on a review site such as Yelp before you go. Or you can cook for yourself if you book our Pioneer Suite which features a full kitchen and family dining room. For more about activities and food options click here.
• Arid Climate--As you may have heard, water is in tight supply in the American West. Anything you can do to help us conserve resources is appreciated. This would include conservative use of towels and linens, shorter showers, and efficient dishwashing and laundry use. You can have a great time and still feel good about not being wasteful of what God has given us.
• Communications--We are in a rural area and cell phone service in Three Rivers is spotty. If you have AT&T as your carrier you should have decent service at the Log House Lodge. Other carriers such as Verizon and Sprint do not yet have good coverage here. However the Wi Fi at the Log House Lodge is robust and free, so you can make Skype calls if necessary. Cell Phone service in the National Park itself is nearly non-existant.
• Wilderness--Life is different here from living in the city. There are wonders to behold, but also unique challenges living in a rural area. At the Log House Lodge a variety of wildlife occasionally pass through the property, including deer, raccoons, bear, bobcat, snakes, skunks, turkeys and even an occasional mountain lion. But all of them are shy, none of them are out to get you, and they will leave you alone if you do the same for them. Chances are you'll never see any of them but they do share their home with us. We also have several domestic cats who stay outside to control smaller pests. And we have a small dog named Dottie who is the Log House Lodge ambassador. And we at the Log House Lodge are dedicated to ensuring that your getaway is as relaxing, memorable, and safe as we can possibly make it.