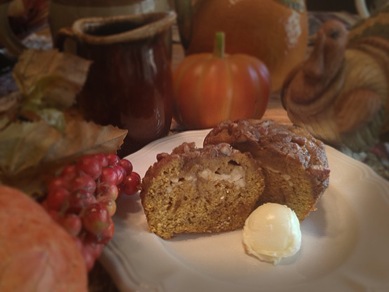 Pumpkin Cream Cheese Muffins
by Mauriene Landry
FILLING
1 (8 oz.) package cream cheese (room temperature)
1 egg
1 teaspoon vanilla extract
3 tablespoons brown sugar
TOPPING
4 tablespoons all-purpose flour
5 tablespoons brown sugar
1 teaspoon ground cinnamon
1/2 teaspoon ground nutmeg
4 tablespoons butter
4 tablespoons chopped pecans (or nut of your choice, walnuts would also work .
MUFFIN
2 1/2 Cups all purpose flour
2 cups white sugar
3 teaspoons baking powder
3 teaspoons ground cinnamon
1/2 teaspoon salt
2 large eggs
1 (16 oz) can of pumpkin puree (not pie filling)
1/3 cup vegetable oil
2 teaspoons vanilla extract
Preheat oven to 375 degrees F (190 degrees C). Grease 12 Large muffin cups or use paper liners.
If you want to make smaller muffins it will make 18-24 muffins (mini muffins would be a great gift)
To make the filling: In a medium bowl, beat cream cheese till soft and fluffy. Add egg, vanilla and brown sugar. Beat till smooth and set aside.
For the Topping: In another medium bowl, mix flour sugar, cinnamon, nutmeg. Add butter and cut it in with a fork till crumbly. Mix in nuts.
For the Muffin Batter: In a large bowl, mix together flour sugar, baking powder, cinnamon and salt.
In another large bowl, mix together pumpkin, eggs, oil and vanilla. Add to flour mixture, being careful to not over mix till smooth.
Place pumpkin mixture in muffin cups about 1/2 full. Add one tablespoon of the cream cheese mixture in the middle of the batter. Top the cream cheese mixture with about 2 tablespoons of pumpkin mixture to cover the cream cheese. (Muffin cups will be 3/4 full or perhaps a little more)
Sprinkle with nut topping.
Bake at 375 F (195C) for 20-25 minutes. Allow to cool in pan for about 5 minutes. Remove to cooling rack to completely cool or serve warm.
-----------------------------------
HOT BUTTERED RUM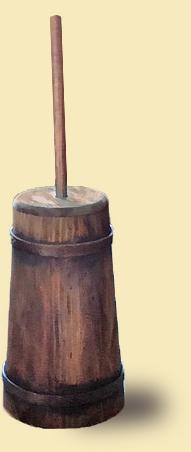 1/2 lb soft butter
2 T. Cinnamon
1 t. nutmeg
2 cups brown sugar
pinch of salt
Cream all together
You will need a
"spiced rum" like Captain Morgan's

Boiling water
For each cup of hot buttered rum
place 1-2 t. butter/sugar/spices mix in cup
add rum to taste (about 1 oz. is good)
Fill cup with boiling water and stir till
sugar dissolves.
--------------
ZUCCHINI FRITTERS WITH CARAMELIZED ONIONS
by Mauriene Landry
Caramelized Onions:
5 large red onions sliced thinly.
Put about 3 T. olive oil in large skillet and heat. Put in onions. Cover. Do not allow them to brown by stirring frequently. Allow them to become limp and translucent. Add :
1 t. salt
1/2 t. pepper
1/2 c. brown sugar
Stir. Allow to cool
Zucchini Fritters:
1 1/2 c. self rising flour
1/2 t. salt
1/4 t. pepper
1 T. Herbs de Provence
1/4 t. cayenne
1/8 t. garlic powder
Mix
1 c. milk
1 egg beaten
2 medium zucchini shredded
Mix all together
Drop in large spoon fulls into skillet with 1 c. canola oil (very hot)
Turn when brown and cook on other side. (Like pancake)
8 eggs cooked to liking (scrambled or poached.
Place fritters (2) on plate that has been warmed. Top with eggs and then carmelized onions.
Serve immediately.
Serves 4
---------------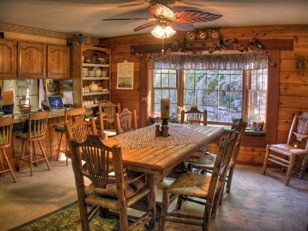 BANANA WALNUT PANCAKES
by Mauriene Landry
1 c. flour
1 t. baking powder
1/2 t. baking soda
1/2 t. salt
1 1/2 c. buttermilk
1 T. melted butter
1 beaten egg
1 large banana sliced
1/2 c. chopped walnuts
Mix dry ingredients. Add milk, melted butter to egg. Combine mixtures. Add bananas and walnuts. Stir till smooth and bake on hot griddle.
--------------------------
EGG BAKE
by Mauriene Landry
4 slices texas toast (crusts removed and cubed)
6 oz. chopped pancetta
1/2 c. chopped onions
1/2 c. chopped red bell peppers
1 c. chopped spinach
1/4 c. chopped Italian parsley
1 c. shredded cheddar cheese
6 eggs well beaten
1/2 c. half and half
salt
pepper
Saute pancetta, onions and bell peppers. Set aside and cool
Beat eggs, half and half, add spinach, parsley, salt, pepper, and cheese. Mix Texas toast in with egg mixture.
Add cooled sauted meat and vegis
Scoop into individual ramakins (well greased)
Bake at 350 for about 1 hour until golden brown
--------------------------
CHOCOLATE CHIP COOKIES
by Mauriene Landry
2 1/4 c. flour
1 t. baking soda
1 t. salt
3/4 c. sugar
3/4 c. packed brown sugar
2 sticks sweet butter room temp
1 t. vanilla
2 large eggs
1 12 oz. pkg chocolate chips
1 12 oz. pkg butterscotch chips
1 c. chopped walnuts
Mix flour, salt and soda set aside
Blend sugars briefly and add butter a small amount at a time
mixing in between until fluffy.
Add vanilla and mix
Add eggs one at a time mixing in between.
Add flour mixture 1/2 at a time mixing well in between.
Add chips and walnuts.
Mix well.
Drop onto ungreased cookie sheets and bake at 375 till brown. Cool on rack.